It is in the Kaloum enclave, a populous neighborhood near the Presidency of the Republic that Salifou Beavogui opened his law firm; a symbolic location as if to emphasise his attachment to the ordinary citizen. It is a modest firm run by a team of young graduates from law universities. In Salifou Beavogui's office, there is not much luxury. It's a simple office occupied with his files and his bookcase with a stack of papers.
Beavogui is perhaps the most publicised lawyer in Guinea, largely because of his numerous interventions on behalf of journalists, activists, and ordinary citizens whose rights are violated.
Born on October 13, 1971, in Conakry, this lawyer entered elementary school in 1981 in the District of Macenta, located some 800 km south of Guinea. Beavogui took his first steps as a pupil at Zegbela Togba Primary School in Macenta.
In 1986, he obtained the CEP and continued at the College Ouenzin Coulibaly from 1987 to 1989. In 1989, he obtained a certificate and entered the Lycée Amilcal Cabral de Macenta, District located in the south. At the end of 1992, he obtained his baccalaureate. In 1996, he graduated with a master's degree in private law from Gamal Abdel Nasser University in Conakry. In August 1996, Me Beavogui set out to find a suitable law firm for an internship. He was keen to work in the legal field.
Sitting in his chair behind his desk, searching for a document in a pile of files, he told us the reasons that led him to become a lawyer.
"My late father François Mohamed Lamine Beavogui was a Judge for 35 years. He served in Dalaba, Forecariah, Mamou, Yomou, Beyla, and Macenta. He retired in 1984. Every time I found him judging, the scene stuck in my head and I wanted to do Law, to defend innocent convicts most often. My dad told me so much about the revolution; the decisions were already made, even before the hearings took place. The penalties were already known. It was the national political bureau that decided, the judge was there with his mouth shut, was only there to pronounce the sentences," my dad told me.
It was in February 2018 that Salifou Beavogui was certified as a lawyer. Afterward, he took the entrance examination to the profession.
"I was fortunate enough to pass this competition with 'distinction'. After that, I went to the international law school in Paris, on a scholarship from Egid. Since my return in 2000, I have been working on my own and I have worked in the profession with courage and a sacrificial spirit."
Over the years, Salifou Beavogui has forged a reputation for himself as an advocate for the weakest and most disadvantaged. He is always shuffling between two courtrooms, having in his hands files of destitute people, powerless in the face of the men wielding power. He defends people of all professional and social backgrounds. He takes up the cases of the underprivileged and defends them free of charge.
 "I am very allergic to injustice. And my problem is not the rich, or the wealthy, or the people in power, the strong man, the famous man. It is my fellow citizens whose rights are violated, who are helpless. I would have been one of the richest lawyers, but for the fact that trade unionists, politicians, civil society activists, journalists are people who are not rich, and I am on their side. And why? Because I cannot bear it when freedoms are deliberately and unjustly usurped; when, instead of applying the law, we want to bully citizens for their political, economic, social, philosophical convictions. Few are the districts where I have not been to defend citizens who have been unfairly deprived of their liberty for their opinion. These are poor people who have nothing but should not be left at the mercy of the awesome judicial machine that can only crush them. Through our interventions in the courts and tribunals, we have managed to limit the damage. We manage to push back the prosecutors who are our opponents" explained Salifou Beavogui.
Many Guinean journalists came close to the prison but were saved from this prison by Salifou Kebé. He leads the field on all fronts when it comes to lawyers dedicated to defending journalists and opinion leaders.
"I can't even count the number of journalist files I have defended. Many journalists have escaped repression because they did their job of providing information. They touched sensitive interests. Whenever a journalist is arbitrarily prosecuted for simply doing his job, I am always there to defend him, alongside countless civil society activists. And that engagement earns me a lot of hostility in the legal world. But it gives me a feeling of joy to have stood up for journalists, activists ".
For Salifou Beavogui, "The rule of law cannot be built without freedom of expression," he argues. And it is due to this conviction that he continues to work to prevent thousands of Guineans from going to prison.
"There are clients who come to see me, 'master we want to entrust you with cases. But, it seems that you are against the people in power.' It is God who gives me life. My regular clients are few. It is not easy. It makes me lose a lot of business. But, I remain calm," he told us.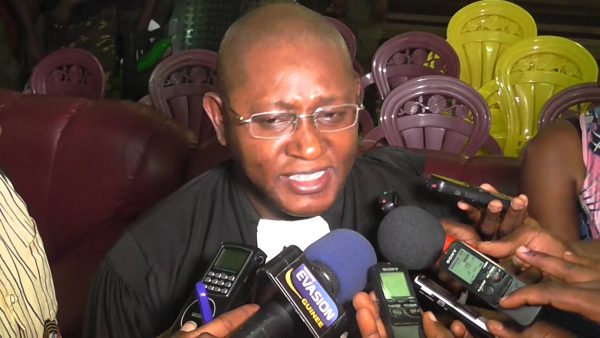 Beavogui said he has handled 73 cases involving journalists and social activists. And among all the cases in defense of journalists, it is that of Moussa Moise Sylla which most engaged his attention in what was called the Nabayagate scandal.
In this case, Moussa Moise and three other journalists were summoned to appear before the Court of First Instance for defamation. At the start of the trial, the Court noted that there could be no prosecution within prosecution and that it was necessary to wait for the action initiated by the public prosecutor around the 200 billion Guinean francs scandal to be cleared first before another lawsuit was brought against the journalists for defamation.
"The Journalists were only whistleblowers, source of information, that sources of information cannot be prosecuted," I argued. This case engaged my attention most.
The most recent case is that of Habib Marouane Camara, of "Africa 2015 who has to face a trial on March 10 in which a Minister of State, Sanoussy Bantama Sow, the current Minister of Sports is the plaintiff alleging libel and insult. We fought for the law on freedom of the press to be enforced to the detriment of the law on the penal code. That is what saved him from imprisonment.
Among the issues that I have defended lately is that of civil society activist Saikou Yaya Diallo. He was arrested in September, October 2020. Placed under arrest warrant by the Dixinn investigating magistrate. We immediately appealed to the investigation control chamber, which exercised its independent authority to order the journalist's release. Under Article 294 of the Code of Criminal Procedure, this release decision is not subject to appeal and must be executed. However, against all expectations, the Attorney General appealed against a decision that not subject to appeal. Following this action, our client, unfortunately, went to prison until the decision was made on the substantive matter in December and he was finally released.
When we left his office after this interview, he was preparing the defense of a preacher, a Malinké imam from eastern Guinea who had trouble with the religious authorities because he wanted to make the Muslim faithful pray in his mother tongue. "In the name of freedom of worship, freedom of expression, I will go to Kankan to defend this scholar," he promised.