The Media Foundation for West Africa (MFWA) has announced the winners of the 2018 West Africa Media Excellence Awards at a ceremony held in Accra, Ghana on Saturday, October 13.
The event was graced by distinguished diplomat, Special Representative of the United Nations Secretary-General and Head of the UN Office for West Africa and the Sahel (UNOWAS), Dr. Mohamed Ibn Chambas, as the guest of honour.
Dr. Chambas in his remarks on the significance of press freedom and journalism excellence highlighted the role of the media in preventing conflict and ensuring peace and stability in the West Africa region.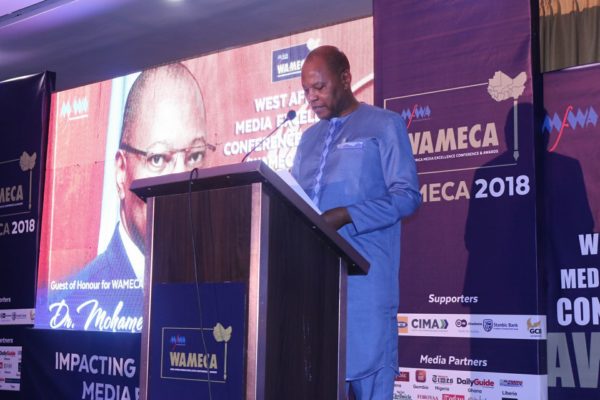 "The media remains a main interlocutory in my pursuit for peace and stability in the region," he said. "I would therefore like to recognise and applaud the role of the media in preventing conflict and sustaining peace through the revelation of abuses, disappearances, arms, caches, killings and excess of clashes with security forces."
The 2018 West Africa Media Excellence Awards was also attended by prominent individuals and heads of organisations involved in media development, press freedom, journalism and media regulation, telecommunications, and governance in the region. These included Dr. Remi Ajibewa – Director of Political Affairs, ECOWAS, Mr. Selorm Adadevor – CEO, MTN-Ghana, Ms. Lara Taleverdian – a Political Affairs Officer, US Embassy in Ghana, Dr. Owen laws Kaluwa – Country Representative for World Health Organisation, Mr. Edetaen Ojo – Board Chair of MFWA, Mr. Louis Kuupen – Assistant Country Director, UNDP-Ghana and Mr. Femi Falana SAN, prominent lawyer and human right activist in Nigeria.
In all, eight awards including the overall best journalist award were presented in front of an audience of over 250 guests.
Manasseh Azure Awuni of Multimedia Group Limited, Ghana was adjudged the West Africa Journalist of the Year, as well as the best reporter in Anti-corruption reporting for his story "Robbing the Assemblies".
Anthony Akaeze who works with TELL/ICIR, Nigeria, was adjudged the winner for the investigative reporting category for his story "Investigation: Darkness in Lagos despite N4billion 'Light Up Lagos' project".
The best journalist for Health Reporting went to Seth Kwame Boateng, Multimedia Group Limited, Ghana, for his story "Next to die".
For his report, "Out of school children: Nigeria's ticking time-bomb", Adam Alqali of African Newspage, Nigeria won the SDGs Reporting award.
Nabaloum Abdel Aziz of Sidwaya in Burkina Faso took home the Human Rights reporting award for his story "Maison d'arrêt et de correction de Ouagadougou: Une journée avec des vies en sursis."
The Telecommunications and ICTs reporting award went to Richard Kwadwo Nyarko of Multimedia Group Limited, Ghana for his report "Using Stones as Mouse in ICT Classes".
While Victor Ekwealor of Techpoint, Nigeria was adjudged best reporter for the Business reporting category for his story "Can technology help dried fish nourish the Nigerian economy?
The winners of West Africa Media Excellence Awards received a cash prize of $500 each, a plaque and a certificate while the overall best journalist took home a cash prize of $2000. All winners will have the opportunity to participate in year-round training programmes and also become Fellows of the MFWA's Journalism for Change Network.
Supporters of West Africa Media Excellence Awards 2018
US Embassy in Ghana
MTN Ghana,
DW Akademie,
Center for International Media Assistance (CIMA),
Stanbic Ghana
GCB Bank Limited
 The event was also covered by several media partners across West Africa.
About MFWA
The MFWA is the biggest and most influential media development and freedom of expression advocacy organisation in West Africa. The MFWA works with national partner organisations in all 16 countries, promoting and defending the right to freedom of expression of all persons particularly the media in West Africa. The organisation operates from its headquarters in Accra, Ghana. For more information, please visit www.mfwa.org.