The call for application for the Climate Change Journalism Fellowship (CCJF) programme received over 400 entries from the ten 10 countries in West Africa where the applications were announced.
The Media Foundation for West Africa selected 10 journalists, five females and five males, out of the entries that were received. Thus, one journalist was admitted from each of the countries- Benin, Burkina Faso, Côte d'Ivoire, Guinea, Mali, Niger, Senegal, Togo, Nigeria and Ghana. The journalists were selected through a highly competitive process.
The Climate Change Journalism Fellowship (CCJF) is a new initiative by the MFWA to promote climate change awareness and responses through increased and quality media reporting and public education on the ongoing climate crisis and its related effects across West Africa.
The selected journalists will go through an intensive five-month training and mentorship programme beginning with a two-month virtual training and a three-month residential programme in Accra, Ghana. The CCJF includes practical investigations and publications with Fact-Check Ghana and The Fourth Estate journalism projects of the MFWA.
Here are the profiles of 10 journalists admitted into the maiden edition of the CCJF:
Daouda Sow, Senegal
Daouda Sow is a Senegalese journalist with ten years of experience. He is the editor-in-chief for the Dakar office of Medi1 TV, a Moroccan television channel with a pan-African focus.
For several years, Daouda has been interested in issues related to climate change, sustainable development and environmental preservation. He has received awards for his work on these issues.
Considering himself an eternal learner, he seeks on a daily basis to strengthen his knowledge and experience on climate change-related issues, climate finance, climate negotiations, reduction of greenhouse gas emissions, the climate fund, biodiversity, energy, the oceans, and more.
Nana Samake, Mali
Nana Samake holds a Master's degree in journalism and communication. After obtaining her degree in 2016, she joined Kledu radio, Mali's first private radio. She is currently a reporter, producer, and presenter for the radio station.
For the past two years, she has been working on issues related to health, where she has really become aware of the damage caused by climate change in her country and in the world.
Nana Samake, wishes to be part of those who are entrusted to raise awareness on the challenges of climate change.
Rodrigue Fulbert Adjimèhossou, Benin
Fulbert Adjimèhossou is a journalist who has made the environment his main focus for a decade. With a Master's degree in Environmental Sciences, his journalism focuses on issues related to ecology, climate, water and health.
After six years at the Fraternité press group, he joined the Benin national daily newspaper La Nation in July 2021. He's currently the Secretary General of the Media Network for Water, Environment and Climate (RAMEC-Benin) and also a very active scientific fact-checker in CFI's Désinfox Afrique programme.
He is a member of the African Journalists Network on Sustainable Development and Climate Change set up by Africa21 and has won several awards, including the African Climate Change and Environment Reporting (Accer) Awards in 2018 and 2022.
Madina Belemviré, Burkina Faso
She holds a Bachelor's degree in Information and Communication Science and works as a journalist specialising in health issues with particular focus on sexual and reproductive health (SRH).
Madina previously worked for the online newspaper Les Echos du Faso. In the quest for quality information in the collection and processing of information, she has worked with various political and cultural actors, as well as actors in climate, economy, education and health sectors.
Madina has over the years focused her investigative journalism efforts on the various conditions of health and has extended her works to virtual platforms that have become forums for discussion of sexual and reproductive health issues. Thus, in 2020, she created Bulletin Santé, which is the first online media in Burkina Faso dealing exclusively with health issues in general. It is a valuable tool for community outreach, especially for women, youth and adolescents.
Her aim is to contribute to the prevention and reduction of obstacles that hinder the access of young people/adolescents and girls to their SRH rights in order to achieve individual and collective well-being.
Mawuédem Koffi Akotoh, Togo
Being a journalist has been Mawuédem Koffi Akotoh's childhood dream. His career started after an internship at the Togolese online newspaper icilome.com, his current employer.
Mawuédem Koffi Akotoh is also a freelancer with IJNet Français, the Washington-based International Center for Journalists (ICFJ) resource site available in eight languages.
Before working for these media outlets, he made his debut in journalism with Togotopnews.
Mawuédem believes that journalists have an important role to play in addressing the many challenges associated with climate change.
Aïssata Sidibé, Guinea
Aïssata Sidibé is a journalist at RTG (Radio Télévision Guinéenne) who is passionate about environmental issues. She is especially aware of the climate issues affecting her country, Guinea, and the sub-region in general. Her interest in the environment in general and the climate in particular stems from the fact that Africa is currently facing several challenges, particularly with regard to access to drinking water, insalubrity, pollution, coastal erosion, drought, famine, deforestation, biodiversity degradation and conflicts.
 To rise to these challenges, she decided to use her pen for the cause by contributing for several years to the change of mentality through reports, magazines, programmes and documentaries.
In line with her interest, Aïssata founded the first Health-Environment TV, web TV available on social networks in 2021. For her, the media have the power to make impactful changes. She is also very active in several civil society organisations working in the environmental field as a volunteer in charge of communication. For her, time is of the essence, it is no longer enough to talk, we must act now and quickly!
Emmanuel Bright Quaicoe, Ghana
Emmanuel Bright Quaicoe is a journalist with Kumasi-based radio station, Luv FM, a subsidiary of the Multimedia Group Limited in Ghana. He holds a Bachelor's Degree in Biochemistry from the Kwame Nkrumah University of Science and Technology, and served as a teaching and research assistant at the Department of Biochemistry and Biotechnology.
He is particularly enthused about pursuing a career in science journalism with hopes of becoming an illustrious Science Journalist. Emmanuel is passionate about bridging the seeming lasting gap existing between science and the Ghanaian society through journalism. He believes propagating the usefulness and advantages of African science and research would contribute to policy-making and facilitate in changing the continent's status quo.
Janet Ogundepo, Nigeria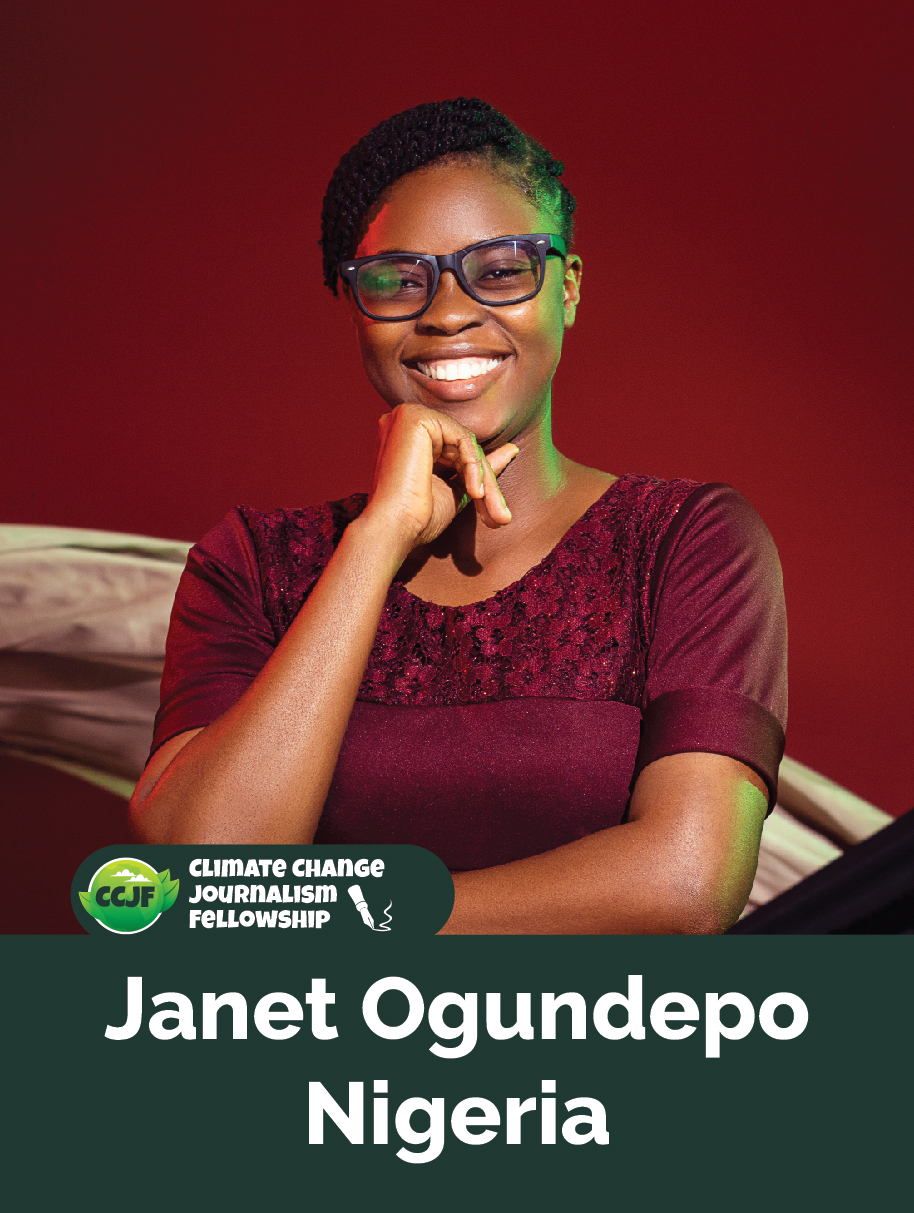 Janet Ogundepo is a correspondent with Nigeria's most widely read Newspaper, Punch Newspapers. She is a Communication and Language Arts graduate from the University of Ibadan, Oyo State, Nigeria. She is currently on the Features desk but writes news stories and conducts issue-based interviews and analyses. Her stories grace the cover and early pages of Saturday and Sunday PUNCH.
Her wide range of experts and sources across several fields has helped her to write credible, factual and in-depth stories.
Ogundepo's passion for a healthy environment is the motivation behind several upcycling, recycling and anti-plastic advocacy stories.
She currently has three nominations from local and international organisations.
Oumar Adamou, Niger
For Oumar, the consequences of climate change on his country, namely floods and bushfires, motivate his interest in training on climate change.
He works for the Office National d'Édition et de Presse du Niger, the government print media with the editions "Le Sahel" and "Sahel Dimanche". He hopes that his work as a journalist will help save lives in the face of the serious threats of climate change.
Oumar believes that fellowship will help him understand the issues surrounding climate change. He also believes that by the end of the training, he will have the skills to report on climate change, which will lead to important decisions being made.
Délorès Pie, Côte d'Ivoire
A trained lawyer, Délorès has held various positions in different companies but her passion for writing led her to journalism at Le Média Citoyen in 2019.  Since then, she's become conscious of the impact journalism can have on society and how it can contribute to improving governance and the lives of citizens.
Délorès has focused her journalism on human rights and environmental issues because she believes that in the face of the climate emergency, journalists have a duty to raise awareness through their work and not to remain silent.
Délorès advocates a more just and equitable society where people, whomever they may be, can enjoy their rights in complete freedom.