In October 2022, the Media Foundation for West Africa started a Fellowship programme on climate change.
Ten (10) journalists selected from 10 West African Countries – Guinea, Mali, Niger, Togo, Benin, Cote D'lvoire, Burkina Faso, Senegal, Ghana and Nigeria – converged in Accra to participate in a 3- month in-person residential fellowship after 2 months of virtual engagements.
The fellowship included intensive practical training workshops on climate change, its challenges and impact, and key trending issues and how to report them. The training workshops also covered data journalism, fact-checking, story development, writing and research for investigative reporting, as well as the equipping of fellows with skills and techniques in how to use access to information laws to gather important datasets for reports.
Fellows also visited key institutions directly involved in climate issues for first-hand learning experience.
As part of activities to certify the maiden cohort of the CCJ Fellows which successfully went through the five-month intensive training, a forum was held on the theme, Confronting the Climate Change Crises in West Africa through Critical Journalism.
The forum brought together key stakeholders from government, the diplomatic corps, academia, leading media institutions, as well as journalists, human rights and climate change activists, and other civil society actors.
The forum had a mix of presentations, panel discussions, experience sharing and the award of certificates.
 Below are photos from the forum.
The event commenced with remarks by the Media Foundation for West Africa, the Funder (DW Akademie) and the Chairperson.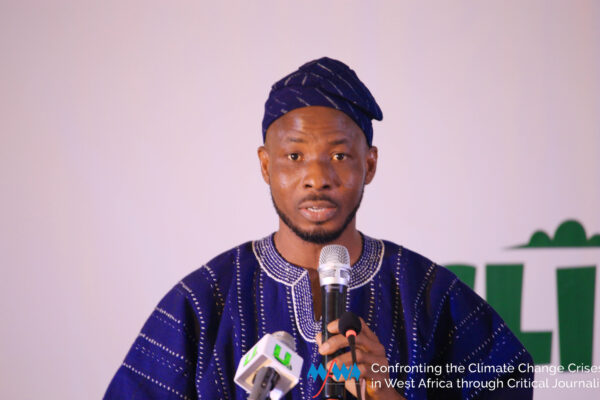 A panel discussion moderated by Seth Bokpe of the Fourth Estate followed the remarks.  The resource persons offered insightful ideas, drawing on their experiences in dealing with issues that pose a challenge to the climate.
The discussions bothered on how daily human activities contribute to the change in the climate, how dependence on renewable energy can help reverse climate change, how state agencies like the forestry commission have incorporated climate change into their activities, the state of media reportage on climate change in Ghana, how the scientific community can work with journalists to put out what is important, and what the carbon market is and how the media should frame climate change issues.
Speaking to the deficiencies in the media reportage on climate change in Ghana, Mr. Charles Sarpong lamented that reportage on climate change is very low. He pointed out that it is not only issues like floods that constitute reportable climate change stories, as is largely the focus of the Ghanaian media. He said climate change is a science and that, journalists must have in-depth knowledge about it in order to be impactful with their reportage in the area.
Regarding the current state of media reportage on climate change in Ghana, David Quaye concurred that it has largely been episodic with the media tending to report on climate change only during floods. However, he reiterated that Climate is not only about seasonal changes. To make climate a subject attractive to the media, he said there was the need to bridge the gap between researchers and journalists. Meanwhile, to make Ghana's climate change fight more fruitful, he said there is the need to also create collaboration between researchers and policymakers so that research materials do not stay on desks and gather dust.
Albert Ansah of the Ghana News Agency expressed worry that even though Climate change is a science, journalists are not furnished with much information in the area.  Some journalists, he said, have to use their own resources to chase stories. As if this is not discouraging enough, it is also difficult to get experts to interview. "Climate change is a science but what have we given to journalists to report?", he quizzed.
 After the panel discussion, Fellows, Issata Sidibe from Guinea and Bright Quaicoe from Ghana, shared with the audience how their participation in the Climate Change Fellowship has been worthwhile. According to them, they plan to incorporate lessons in Climate Change reporting that they have acquired from the fellowship, in their work.
As a token of appreciation and a pledge to their commitment to report on climate issues, the Fellows presented an Artwork to the MFWA. The art work depicts the current climate change situation and how with their voices as journalists, they can meaningfully contribute to making society better.